The Benefits of LipoSan Ultra®
Learn why LipoSan Ultra® is a fast and effective weight management and digestive support supplement, powered by chitosan sourced from the pristine North Atlantic waters.
LipoSan Ultra® is a natural and effective dietary supplement, ideal for weight management and digestive support. It is a safe and fast-acting supplement, with high fat-binding qualities.
Its key ingredient is Icelandic chitosan, a natural biodegradable and biocompatible fiber found in the pristine waters of the North Atlantic Ocean. Chitosan behaves both as a soluble and non-soluble fiber in the digestive tract, promoting gut health, weight management and healthier cholesterol levels. LipoSan Ultra® contributes to the maintenance of normal blood cholesterol levels*.
The benefits of Liposan Ultra®
LipoSan Ultra® is a patented product made in Iceland and combines fresh, high-quality raw materials with years of experience in biotechnology. In a human clinical trial, LipoSan Ultra® proved to be a unique proprietary formulation . Some of the health benefits include:
decreasing dietary fat absorption
maintaining normal blood cholesterol levels
improving digestion
contributing to a significantly reduced body weight.
Better weight management and a healthier digestive system
LipoSan Ultra® is not digested in the gut, but instead it is fermented thanks to colonic bacteria, resulting in an increased production of metabolites. These are small molecules, end products of metabolism, that drive vital biological activities in the human body and are known to play a significant role in safeguarding our organism.
Once inside the digestive tract, LipoSan Ultra® complexes and binds with dietary fat. It does this in such a way that fat is not absorbed by the body, contributing to better weight management and a healthier digestive system.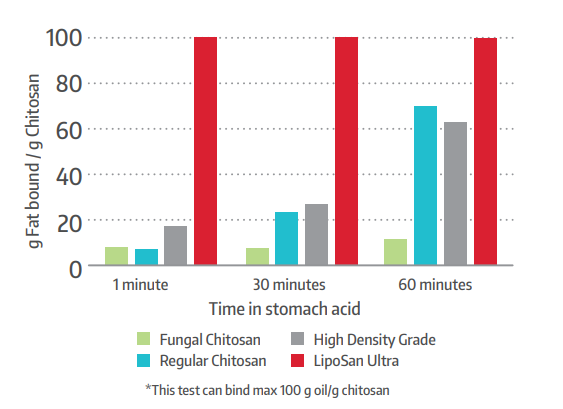 High-quality, fast-acting ingredients
The main ingredient of LipoSan Ultra® is ChitoClear chitosan , sourced from the North Atlantic waters around Iceland and processed by our team of experts for enhanced solubility and fat-binding performance. This means that, not only does it bind up to five times more fat than similar chitosan products, it starts dissolving within just 3-5 minutes of ingestion. The result is a safe and natural weight management supplement that is both easy to use and more effective than similar products.
*Health claims approved by the European Food Safety Authority (EFSA). According to EFSA, a daily consumption of 3-g chitosan will contribute to the maintenance of normal blood LDL cholesterol concentrations [EFSA Journal 2011; 9(6):2214 [21 pp.]. doi:10.2903/j.efsa.2011.2214].
*These statements have not been evaluated by the FDA. This product is not intended to diagnose, treat, cure, or prevent any disease.
___
Liposan Ultra® is a private label weight management product, produced by Primex. If you are looking for a white label manufacturer, Primex can provide you with private label solutions for weight management supplements and health products. For any questions, assistance or if you would like to request a quote, do not hesitate to get in touch. Retail-ready products are not available in the USA.