LipoSan Products
End-user products containing LipoSan Ultra®
LipoSan Ultra® is a natural dietary supplement for effective weight management. In the digestive system, the patented LipoSan Ultra® complexes and binds with dietary fat in such a way that it is not absorbed by the body.
LipoSan + Vitamin C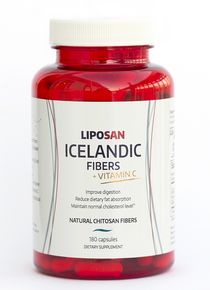 By mixing Vitamin C with our proven LipoSan Ultra® we have increased the effectiveness of each capsule. In addition to the well-known benefits of Vitamin C, it also reduces the time it takes LipoSan Ultra® to dissolve and start working in the fat from your meal. Within three minutes of working in the stomach, over 90% of the LipoSan Ultra® is already working on neutralizing the fat from your meal.
Supplemented with vitamin C – vital to the production of collagen and important for skin, bone and joint health. It helps reduce fatigue, contributes to the normal energy-yielding metabolism, normal function of the immune system and the protection of cells from oxidative stress*. Liposan contributes to the maintenance of normal blood cholesterol levels*. Liposan is manufactured by a patented environmental-friendly process.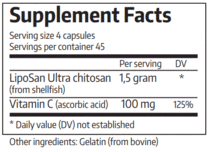 Due to how fast LipoSan Ultra® starts working in your stomach the capsules can be taken during your meal, as opposed to 30-45 minutes before like some "competing" chitosan products. Each bottle contains 180 capsules with 375mg of LipoSan Ultra® and 25mg of pure Vitamin C.
Our LipoSan + Vitamin C is GMP and Halal certified. This product is also available as a retail-finished diet product under the brand name ChitoCare Beauty LipoSan Fibers + Vitamin C. Not for sale in the USA.
Please check our science page for more information on the facts behind the LipoSan Ultra® efficacy.
*Health claims approved by the European Food Safety Authority (EFSA). According to EFSA, a daily consumption of 3-g chitosan will contribute to the maintenance of normal blood LDL cholesterol concentrations [EFSA Journal 2011; 9(6):2214 [21 pp.]. doi:10.2903/j.efsa.2011.2214].
**These statements have not been evaluated by the FDA. This product is not intended to diagnose, treat, cure, or prevent any disease.
HAIR, SKIN & NAILS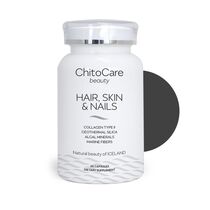 Highlight your inner beauty with Hair Skin & Nails. This natural marine formula helps smooth and strengthen your skin as well as maintain your inner well-being. Our patented LipoSan Ultra® balances perfectly with fish cartilage extract to create the ultimate hair, skin and nails product.
This chitosan-based product contains Icelandic LipoSan Ultra® fibers that are supplemented with hydrolysed fish collagen type ll, known for its antioxidant properties. It is rich in algae, that stimulates collagen renewal and possesses nourishing, anti-ageing and moisturizing properties. This proprietary blend also contains silica, a mineral compound of lava, famously found in Iceland's Blue Lagoon and known for strengthening the skin's barrier function. It also incorporates Vitamin C, zinc, selenium, magnesium and calcium, that help protect cells from oxidative stress.
Hair, Skin & Nails is available as a retail-finished health product under the brand name ChitoCare Beauty Hair, Skin & Nails. Not for sale in the USA.
LipoSan Micro
The latest addition to our product range has all the benefits of LipoSan Ultra® with the added convenience of being able to add directly to your meal instead of swallowing capsules. Ideal for people who don't like capsules or if you simply want to make your food healthier.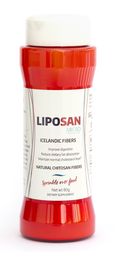 Our patented formulation is micro-coated to remove any taste, so you can add LipoSan Micro to your food without altering your enjoyment of the meal! This efficient way opens the door to endless possibilities, for example adding LipoSan Micro to gravy or whipped cream. Some customers have mixed LipoSan Micro with mayonnaise to neutralize its fat, with great results!
Primex is very excited to introduce Micro to the market and we have great hopes for this newest family member. Available in 80g "spice" jars for extra convenience and ease of use with 80 servings per jar. Not for sale in the USA.

Our Range
Pure LipoSan Ultra® is available in capsules, ready for the end-consumer, in bottles with numbers ranging from 60 to 240 capsules per bottle. Our products are available with several different language options, and order quantities vary depending on combinations of labels and bottle sizes.
If you require a private label, we can supply large or small quantities of bottles of different number of capsules per bottle and various capsule sizes. We are happy to discuss to your ideas.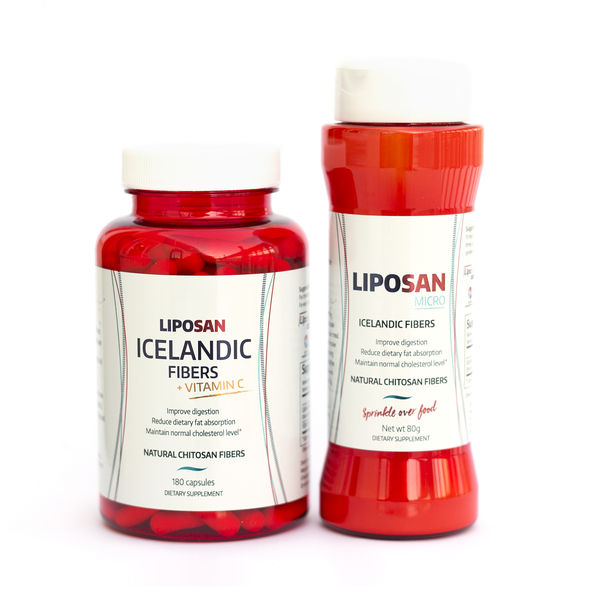 Primex production specialists are enthusiastic to help our clients find the most suitable and efficient solutions to meet their customers needs.
Contact us for further information and quotes. Retail ready products are not available in the USA.
---
Contact us