LipoSan Ultra® Chitosan: A Natural Wonder of the Ocean Explained
Chitosan is the bioactive ingredient that powers LipoSan Ultra® products, working wonders for weight management and skin care. But what is it exactly, where does it come from and what are its benefits?
What is chitosan?
Chitosan is a fiber derived from chitin. Chitin is the second-most abundant natural biopolymer in the world (topped only by cellulose) and can be found in the hard, exterior shells of certain crustaceans, such as crabs, shrimps and lobsters. It is a natural, renewable and nontoxic organic polymer with excellent biocompatibility and biodegradability. It is a by-product, made from discarded crustacean shells, making it an environmentally efficient ingredient.
Years of research and development have made chitosan a safe, natural and fast-acting substance that can lead to great health benefits. Its positive and effective qualities, varied applications and sustainable production are quickly turning chitosan into the ingredient of the future.
Where does chitosan come from?
The high-quality chitosan used in LipoSan Ultra® products is sourced from the shell of the North Atlantic Coldwater Shrimp (Pandalus Borealis) that live in the pristine waters around Iceland. Our provider of raw material is Primex ehf., a marine biotechnology company with over 20 years of experience. Sophisticated computerized technology and sustainable practices contribute to the complete utilization of natural resources.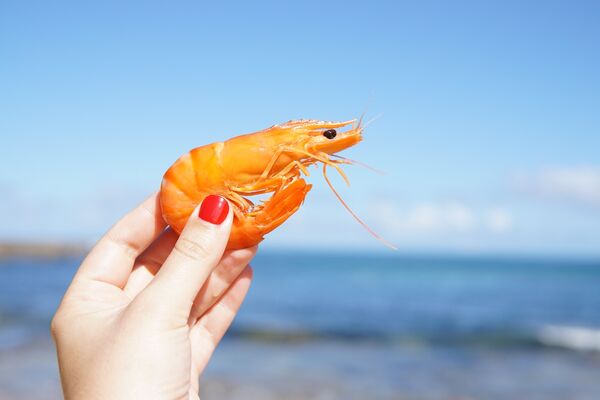 So, what can chitosan do?
Whether you've heard of chitosan before or not, chances are you're wondering why it is found in so many skin care products and food supplements. There are several reasons why chitosan is such an effective and useful substance, and they are driving factors behind LipoSan Ultra® products . Harnessing chitosan's superpowers improves our health and diet, our hair, skin and nails, and our overall quality of life. Here are some of its amazing abilities.
Weight MANAGEMENT supplement
Chitosan was first discovered to have beneficial properties back in the 1980s. It has primarily been used as a weight management supplement as it is extremely fibrous, meaning that it can actively absorb oils – up to eight times its weight! When ingested as an oral supplement, it prevents the body from absorbing fat and cholesterol. This makes it an excellent option for treating obesity, high cholesterol and other related diseases and conditions. LipoSan Ultra® contributes to the maintenance of normal blood cholesterol levels* and is a unique and proprietary dietary fiber formulation, designed for clinically proven, natural weight management.
Anti-aging properties
Our skin is constantly regenerating. It creates new skin cells in its deeper layers, slowly pushing up these layers, making them appear more plump, firm and supple. New skin cells show through, making for a fresher, brighter-looking outer layer of the skin. This regeneration process occurs naturally and abundantly when we are young. However, as we grow older, this process significantly slows down, and skin becomes dull and rough. By speeding up skin cell regeneration, chitosan helps slow down the aging process. ChitoCare Beauty Hair, Skin & Nails is a unique, patented blend of natural ingredients, with proven restorative and protective qualities against skin aging.
Furthermore, recent findings in calorie restriction research on ageing have revealed that reduced calorie intake contributes to the extension of both median and maximum lifespan. These effects are mostly explained by the ability of calorie restriction to suppress oxidative related alterations and oxidatively induced age-related diseases.
Supports collagen production
Collagen is one of the main structural proteins of our body. It's what gives skin its smooth and firm appearance. We naturally produce collagen, quite extensively when we are young. As the body ages, collagen production declines, both in amount and quality. Collagen loss is one of the reasons why mature skin develops wrinkles, fine lines, crow's feet, jowls and other creases and folds. The best way to combat and prevent their formation is to encourage the body to produce more collagen. Chitosan helps to maintain normal collagen production in the skin, improving its texture, elasticity and smoothness. ChitoCare Beauty Hair, Skin & Nails is a unique, patented blend of natural ingredients, including a marine collagen complex.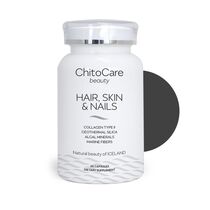 Improves hair health
Chitosan is commonly used in cosmetic applications as well, as it helps to maintain skin moisture, tone skin, and treat acne. Chitosan is not just a magic substance for our skin, it can greatly benefit hair as well. It can improve suppleness of hair and reduce static electricity and lock in moisture thanks to its film-forming ability, keeping hair better hydrated. As it supports collagen production, that gives structure to our hair, nails, ligaments and more, chitosan helps rebuild damaged or thinning hair. By inducing hair growth, chitosan helps hair become thicker, stronger and with a healthy shine. ChitoCare Beauty Hair, Skin & Nails is a unique, patented blend of natural ingredients, promoting thicker hair and stronger nails.
*Health claims approved by the European Food Safety Authority (EFSA). According to EFSA, a daily consumption of 3-g chitosan will contribute to the maintenance of normal blood LDL cholesterol concentrations [EFSA Journal 2011; 9(6):2214 [21 pp.]. doi:10.2903/j.efsa.2011.2214].
*These statements have not been evaluated by the FDA. This product is not intended to diagnose, treat, cure, or prevent any disease.

___
LipoSan Fibers & Vitamin C and ChitoCare Beauty Hair, Skin & Nails are a private label weight management and health products, produced by Primex. If you are looking for a white label manufacturer, Primex can provide you with private label solutions for weight management supplements and health products. Retail-ready products are not for sale in the USA.