How ChitoCare Beauty Hair, Skin & Nails Benefits the Skin
ChitoCare Beauty Hair, Skin & Nails is a unique, patented private label health product created by Primex. It is a blend of natural ingredients that will nourish the body from within and contribute to its natural repair process.
Benefits of ChitoCare Beauty Hair, Skin & Nails
ChitoCare Beauty Hair, Skin & Nails is a proprietary blend that combines natural marine chitosan, Icelandic Liposan fibres and hydrolysed fish collagen Type ll. It also incorporates nutrients and antioxidants such as Vitamin C, geo-silica, zinc, magnesium, calcium, and selenium , that help protect cells from oxidative stress and contribute to the skin's natural barrier function.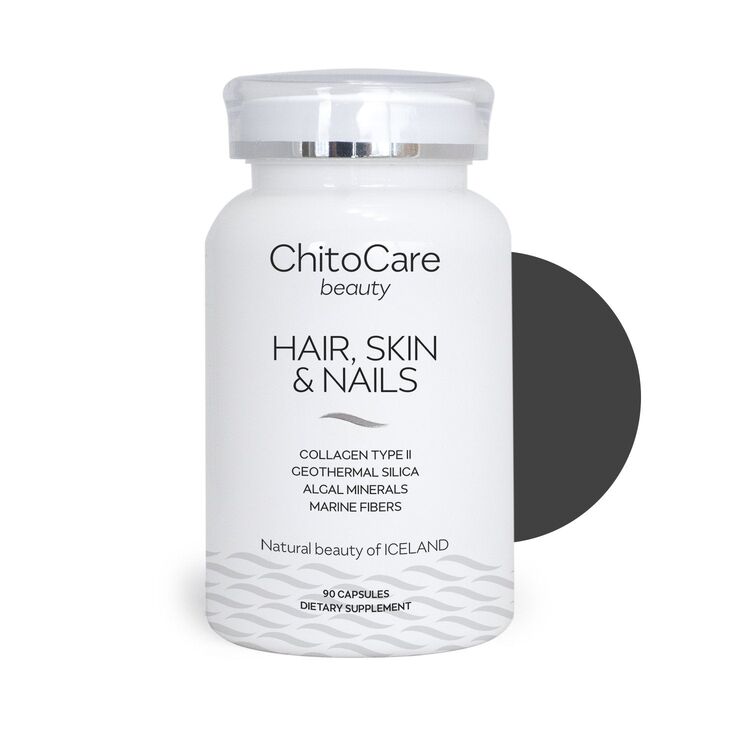 Proven results include:
Cell rejuvenation
Stimulation of collagen biosynthesis
Powerful antioxidant protection
Better moisturized skin
Thicker hair, stronger nails
Anti-aging activity
By speeding up skin cell regeneration, chitosan helps slow down the aging process, encouraging our body to produce new skin cells, even in mature skin types, reducing roughness, fine lines and deep wrinkles.  Cell regeneration, moisture retention and skin hydration are crucial for maintaining supple, more resilient skin.
A clinical study of the Icelandic collagen product for  ChitoCare Beauty Hair, Skin & Nails was recently completed. The study was conducted by a leading European skin laboratory specializing in independent skin research. The study revealed that 12 weeks of treatment with  ChitoCare Beauty Hair, Skin & Nails resulted in skin that was:
Smoother and more elastic
Better moisturized and hydrated
Denser and firmer
Collagen production 
Collagen loss is one of the reasons why mature skin develops wrinkles, fine lines, crow's feet, jowls and other creases and folds. The best way to combat and prevent their formation is to encourage the body to produce more collagen. Chitosan supports collagen production in the skin, improving its texture, elasticity and smoothness.  As collagen is also a building block for nails, chitosan helps strengthen nails, protecting keratin and maintaining hydration.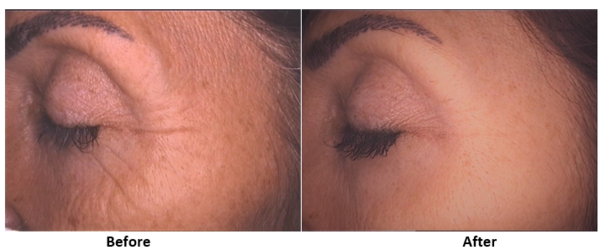 AntioxidAnt protection
Making sure you nourish your skin with antioxidants will protect you from harmful environmental stressors, such as UV radiation, air pollution, toxins, harsh weather, blue light, tobacco smoke, and chemicals in pesticides and cleaning agents.  Antioxidants such as Vitamin C help slow down the natural aging process by encouraging collagen production, preserving skin plumpness and reducing signs of aging, such as brown spots, fine lines, sagging and dryness.
Hair care and growth
Chitosan can greatly benefit hair, as it locks in moisture thanks to its film-forming ability, keeping hair better hydrated. As it promotes collagen production, chitosan helps rebuild damaged or thinning hair. It improves hair suppleness and softness, reduces static electricity, removes sebum and oils, retains moisture, fights the fungus that causes dandruff, and promotes hair growth.  By inducing hair growth, chitosan helps hair become thicker, stronger and with a healthy shine.  
Increases permeability of other ingredients 
Highly potent antioxidants, such as selenium or zinc, cannot easily penetrate the skin to deliver their beneficial effects. However, when combined with chitosan, these ingredients are better absorbed by the skin. This means chitosan is a dynamic agent for enabling antioxidants to do their job more efficiently. 
___
ChitoCare Beauty Hair, Skin & Nails is a private label health product, produced by Primex . If you are looking for a white label manufacturer, Primex can provide you with private label solutions for weight management supplements and health products. Reatil-ready products are not for sale in the USA.