MSC Certification for Primex products
Primex Iceland is proud to announce that its production has been certified by the Marine Stewardship Council and proudly bears the blue fish MSC label, alongside its other certifications.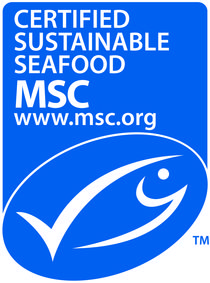 The blue fish label is only applied to wild fish or seafood from fisheries that have been certified to the MSC Fisheries Standard, a science-based set of requirements for sustainable fishing.
The MSC encourages responsible fisheries management and sustainable practices to protect the future of fishing communities, including the raw material source of chitosan.
Primex is located in Iceland in the middle of the North Atlantic Ocean. Pristine waters of the North Atlantic surround the island, where warm water, brought up by the Gulf stream, mixes with the cold Arctic waters from the North Pole to create fruitful conditions for rich plant and animal life. The source is the shell of North Atlantic Coldwater Shrimps (Pandalus borealis) due to its aptitude as a raw material for high quality chitosan production.
Since 1999, Primex has been running a state-of-the-art plant for chitin and chitosan manufacture in Siglufjörður, Iceland. Equipped with modern sophisticated computerized technology, the chitosan factory is able to deliver consistent product quality all year around.
Primex Iceland and The Marine Stewardship Council share the values of sustainability and respect for nature. By combating over-fishing and illegal fishing along with responsible practices we can help protect not only nature but the livelihoods and food security of people worldwide.